On April 4th the community gathered to celebrate a diverse group of community builders in Vancouver's inner city helping to create a new culture in our neighbourhood where all our children graduate from high school. Together we demonstrated that reconciliation must go beyond words and recognize the everyday commitment of local community members- parents, grandparents, teachers, students, youth leaders and resource workers- who have been instrumental in supporting the learning journey of the community and in realizing success as defined by the community.
The event was an opportunity to introduce the work of Vancouver's Inner City community members involved in the Graduation Strategy and to inspire further collaboration toward building positive futures for our children and families.
The Salish style honouring ceremony was designed to be inclusive and reflected the spirit of the Strategy, a prenatal to postsecondary continuum, which aims to build on local strengths, capacities and naturally occurring networks of support to create meaningful and sustainable change and truly make a difference in the educational outcomes of students in the Inner City.
Click here to watch Access TV's segment on the Community Honouring Ceremony.
We were fortunate to have local Salish leaders Shane Pointe and Nelson Leon to guide us in our community honouring ceremony which took place in the RayCam gymnasium.
About Salish Ceremonies
Any gathering within the Salish perspective is acknowledged as a ceremony.  Ceremonies follow a set of practices and protocols and generally held in big houses also called longhouses. Though ceremonies went underground, they continued up to the present time. They are times for 'work,' such as traditional naming ceremonies, memorials, burnings, or as times of 'intervention' type healing for families.  Traditional languages are spoken at these events, often translated. For this inclusive public event, certain Salish protocols were followed including opening prayer, gifting, blanketing, utilizing a 'speaker,' and inviting 'witnesses,'. Nelson Leon was brought on to direct the afternoon, acting as emcee and speaker and was the liaison between the 'family' organizing the event, guests and honourees.  Under the direction of the family, Nelson called witnesses just as the ceremony was about to get underway.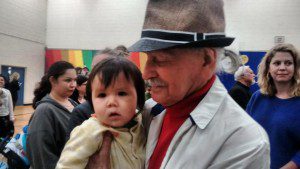 Witness Ceremony
In a Salish  ceremony, the witness ceremony is intended to ensure that pertinent community members "witness" certain events, such as a Naming or Honouring Ceremony.  Individuals are called by their name, to 'officially' witness the event. They then stand up,  and the family or in this case, committee will walk over to you.  They each hand witnesses two quarters.  This is known as a 'handshake'; a gift and  acknowledgement for the work of witnessing. Those who accept to witness are responsible for ensuring that the community knows that this event occured,  and to vouch for the integrity of the ceremony, sharing to their family or community what occured at the event.
The gifting of two quarters is not looked upon as a payment, but accepting the responsibility and acknowledgment of the important role at the event.
In the bighouse fashion, witnesses or elders who carry the knowledge, will often address the family, acknowledging the importance of what they have done.  For memorials and namings the elder or  witnesses who hold knowledge,  will show their great care for the family and for tradition and will "share word," (give advice)  to the family organizing, those who have lost a loved one,  or those receiving names.  In the context of this event, witnesses were asked to share a few words near the end of the event.
The Honouring Ceremony
Students:
Alicia Lopez- Alicia Lopez a is 14 years old and in grade 9 .  She attends Britannia Secondary school and enjoys playing ball, singing and music.
Kimberly Cureg- is one of the many members of Pathways.  She is 14 years old, in grade 9 and currently attending Britannia. Her interests are adventuring and all types of arts. Pathways is an upbeat and supportive environment where kids like her can ACTUALLY have fun learning with her fellow peers as well as open new possibilities.
 JJ Morcilla-  Jeremiah Morcilla, is 15 years old in grade 9 at King George Secondary.  His interests are computers and playing basketball, volleyball, football and video games.
Continue reading→