On April 4th the community gathered to celebrate a diverse group of community builders in Vancouver's inner city helping to create a new culture in our neighbourhood where all our children graduate from high school. Together we demonstrated that reconciliation must go beyond words and recognize the everyday commitment of local community members- parents, grandparents, teachers, students, youth leaders and resource workers- who have been instrumental in supporting the learning journey of the community and in realizing success as defined by the community.
The event was an opportunity to introduce the work of Vancouver's Inner City community members involved in the Graduation Strategy and to inspire further collaboration toward building positive futures for our children and families.
The Salish style honouring ceremony was designed to be inclusive and reflected the spirit of the Strategy, a prenatal to postsecondary continuum, which aims to build on local strengths, capacities and naturally occurring networks of support to create meaningful and sustainable change and truly make a difference in the educational outcomes of students in the Inner City.
Click here to watch Access TV's segment on the Community Honouring Ceremony.
We were fortunate to have local Salish leaders Shane Pointe and Nelson Leon to guide us in our community honouring ceremony which took place in the RayCam gymnasium.
About Salish Ceremonies
Any gathering within the Salish perspective is acknowledged as a ceremony.  Ceremonies follow a set of practices and protocols and generally held in big houses also called longhouses. Though ceremonies went underground, they continued up to the present time. They are times for 'work,' such as traditional naming ceremonies, memorials, burnings, or as times of 'intervention' type healing for families.  Traditional languages are spoken at these events, often translated. For this inclusive public event, certain Salish protocols were followed including opening prayer, gifting, blanketing, utilizing a 'speaker,' and inviting 'witnesses,'. Nelson Leon was brought on to direct the afternoon, acting as emcee and speaker and was the liaison between the 'family' organizing the event, guests and honourees.  Under the direction of the family, Nelson called witnesses just as the ceremony was about to get underway.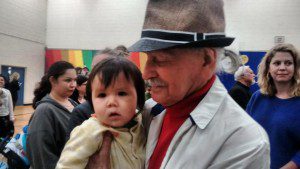 Witness Ceremony
In a Salish  ceremony, the witness ceremony is intended to ensure that pertinent community members "witness" certain events, such as a Naming or Honouring Ceremony.  Individuals are called by their name, to 'officially' witness the event. They then stand up,  and the family or in this case, committee will walk over to you.  They each hand witnesses two quarters.  This is known as a 'handshake'; a gift and  acknowledgement for the work of witnessing. Those who accept to witness are responsible for ensuring that the community knows that this event occured,  and to vouch for the integrity of the ceremony, sharing to their family or community what occured at the event.
The gifting of two quarters is not looked upon as a payment, but accepting the responsibility and acknowledgment of the important role at the event.
In the bighouse fashion, witnesses or elders who carry the knowledge, will often address the family, acknowledging the importance of what they have done.  For memorials and namings the elder or  witnesses who hold knowledge,  will show their great care for the family and for tradition and will "share word," (give advice)  to the family organizing, those who have lost a loved one,  or those receiving names.  In the context of this event, witnesses were asked to share a few words near the end of the event.
The Honouring Ceremony
Students:
Alicia Lopez- Alicia Lopez a is 14 years old and in grade 9 .  She attends Britannia Secondary school and enjoys playing ball, singing and music.
Kimberly Cureg- is one of the many members of Pathways.  She is 14 years old, in grade 9 and currently attending Britannia. Her interests are adventuring and all types of arts. Pathways is an upbeat and supportive environment where kids like her can ACTUALLY have fun learning with her fellow peers as well as open new possibilities.
 JJ Morcilla-  Jeremiah Morcilla, is 15 years old in grade 9 at King George Secondary.  His interests are computers and playing basketball, volleyball, football and video games.

Parents:
Linda Talio-  is a survivor of the residential school and her life has been impacted by intergeneration trauma.  A motherof two boys and a grandmother of four beautiful children. Linda grew up in different places and different homes across British Columbia but Vancouver has been home since 1970.  Linda shares that she didn't have an easy life  in school and eventually dropped out.
Linda shared she was bullied at school because of a learning disability and Fetal Alcohol Spectrum Disorder (FASD).  Then, later in her life she met someone that loves her for who she is. It wasn´t til about 12 years ago, when she was diagnosed.  It was hard to accept her disorder but she said, "once I started talking about it I started the healing process and it was easier to find the right supports and feel more confident about going back to school."
Linda got her grade 12 and graduated  July 2015.  She  is now in her third term as a board member of Ray-Cam Co-operative Centre which gives her the opportunity to contribute  ideas to support the families in this neighbourhood, particularly aboriginal families. When she was finishing her grade 12     she was able to access mentoring and tutoring support at Ray-Cam Co-operative Centre which made a big difference to strengthen her confidence and increase her learning expectations.
she says, "For me to go back to school and get my grade 12 was a big personal accomplishment and I look forward to continuing my education to become an early childhood educator and find employment in this area"
Coleen Johnson- is from Bella Bella, BC-Heiltsuk Nation and now resides in Strathcona. Collen is a mother of three children who are engaged and active participants in the different programs at Ray-Cam. Because of her commitment to strengthening her skills through training and education, she has been awarded certificates in: FASD, food safe, family support worker training, first aid, training for empowering and supporting youth, Early Childhood Education Assistant Certificate as well as training to intervene and support people with suicidal ideation. Collen says, "Having support services and programs that are available in my neighbourhood made it possible for me to continue to strengthen my skills and education. I am well aware about the struggles of indigenous families from my own experience and I had the opportunity to join the Ray-Cam board of directors and to support other families and make the difference to improve their lives in a positive manner."   Collen strongly believes that education and more learning opportunities can help our communities break the cycle of poverty and violence.
Grandparents:
Loretta Tait- Loretta Tait (Loluc "voice for little people" in Gitxsanimaax language)
Loretta is a proud Gitxsan grandmother of five, and the fulltime caregiver of three of them. She grew up on reserve until she was 6 years old and only spoke her language, Gitxsanimaax & learned to speak English at 9 years old.  Loretta is a residential school survivor and says although she experienced a lot of discrimination at home with her adoptive family as well as in schools, she finished her secondary education and did two years of post-secondary.
She went on to study to be a community support worker as well as a drug and alcohol counselor and feels proud of starting the first cultural support program at the Native Child and Family Services in Toronto & a native youth group to create programs that catalyzed change- when she lived in Ontario.  She goes on to say, "Today I want my kids and my grandkids to love and like themselves. I want them to feel proud and strong about who they are. I am working hard to teach them how to communicate in healthy ways and also give them sense of  responsibility. I want to inspire them to learn about native culture without imposing on them. When I got custody of my granddaughter I encouraged her to go back to school and I am supporting her through this journey & she will be graduating next year!
Young Leaders:
Jessica Savoy- Jessica is Nisgaa, she has been a leader for both the RISE program, an Aboriginal youth leadership and development program and Naskarz and is currently completing her undergraduate degree at Langara. Through her work, Jessica engages with youth and families through arts, culture and recreation. She is committed to facilitating new understandings and positive relationships between Aboriginal and non-Aboriginal community members and acting as a role model for other youth with the hope that Aboriginal leadership and influence becomes a visible presence across the city. Jessica was recently selected for a position with the Representative for children and youth with their Aboriginal Youth team.
Health Care Providers:
 Lorine Scott- was a nurse practictioner, and is now a Family Nurse Practitioner. Lorine has long recognized the challenges facing many families in accessing needed health care.  She has  a passion for children's health, trying to be a part of ensuring that every child has the ability to reach their full potential, and believes that in order to achieve that  – the family must have access to accessible services that truly meet their needs in the communities they live in.
Lorine wanted to make a difference in the way health intersected and partnered with communities and families. Working for BC Children's, she was a part of the development of the RICHER program because it was created with the community – based on what community and  families who live there want from the health care system.…creating a culture of change.
She says she has learned so much from all the community agencies, providers and most importantly the families – and that it has been a privilege to have worked in this community, the heart of the folks here is an inspiration to all of us in health care for sure.
Teachers:
Kim Leary- Kim has been a teacher at Britannia Secondary for 8 years, where she has devoted her energies to helping students believe that academic success is well within their reach. As the Executive Director of Homework Club, she puts that ethos into practice, providing students with everything they need to reach their potential – access to free tutoring, hot meals and snacks, school supplies and textbooks, computers, and an unwavering belief in the strengths and talents of the young people in this community.
Adult Education –
Hendrik Hoekema- Hendrik has a life long commitment to adult education.  He was a pioneer in offering university courses in Canadian penitentiaries, changing the lives of many.   In 1985, he founded Vancouver Eastside Educational Enrichment Society (VEEES), overseeing the following employment programs: jobSTART, PACE2, newSTART, and newCHAPTER.  Hendrik has served on the Boards of Directors for numerous societies, including the Network of Inner city community services society,BOB, Lookout, and the Inner City Housing Society. As a founding member of Our Place, Hendrik has led the Economic Development focus and continues to play a role in the downtown eastside Economic Strategy.   He has been honoured by SFU as a Distinguished Graduate, and is a recipient of the Queen's Medal for making a real difference to the community.
In Memoriam: Lynda Hurst
Lynda worked with Hendrik Hoekema for many years at VEEES/NewStart. Her death was a shock to the community. Through her passion for her work, Lynda assisted over 1,000 women overcome difficulties to improve their lives through access to education and bridging women to employment. Lynda lived and breathed her work– she was passionate, consistent and went above and beyond to ensure women in our community overcome barriers to education and employment.                                
Recreation Programs:
 Ron Suzuki- Ron Suzuki is retiring from his job as a Recreation Programmer after 41 years in the position. He has worked in several Vancouver communities, including Riley Park, Kerrisdale, Sunset and Mount Pleasant but his last 16 years has been at Strathcona, where he has been a pillar of the community and the community centre.  Ron has built many of the programs that have become essential parts of the community fabric, including the Backpack and Breakfast programs, Afterschool Adventures child care program and the basketball program. Ron's unwavering enthusiasm, dedication, hard-work and his passion for the community will be missed but we are grateful for the legacies that he leaves behind.
Early Learning and Childcare:
 Jollean Kenan- Jollean has been the leader in Ray-Cam Cooperative Centre's daycare since 1989. Through her long connection to the community Jollean has been a support, teacher and mentor to countless children and families. Jollean believes that education is the most valuable thing we can provide for our children, as she says, it is the stepping stone for children. Jollean firmly believes that parents are the ones to inspire children to learn and they open the door for learning and support. Jollean's motto: "Every moment is a teaching moment!"