ALIVE would like to thank Lou-ann Neel for creating this beautiful design, titled 'In Coast Salish Territory', to represent our organization and the diverse communities we work with.
Great work Lou-ann!
(Below is an artist statement and bio)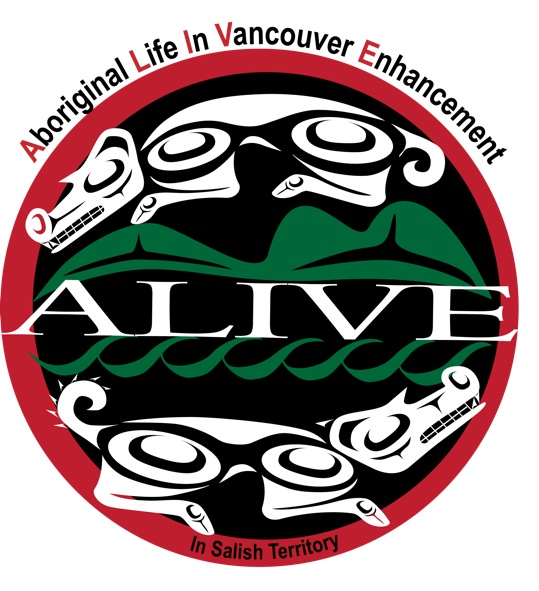 In Coast Salish Territory
 "In Coast Salish Territory" is an original design created in 2014 by Lou-ann Ika'wega Neel, for the Aboriginal Life In Vancouver Enhancement Society.
 "In Coast Salish Territory" speaks to our diverse communities, as represented by the 'four stars of the four directions' that shine brightly in the night sky.
 Two wolves provide protection and guidance to all who roam this land; Sky Spirit Wolf transforms minute by minute, forming the clouds that dance across our coastal communities, keeping our air clean.  Sea Spirit Wolf swims to and fro, creating the hourly tides that grace our coastlines and enable marine life to flourish.  Wolves represent loyalty and strong family ties. Wolves are social and communicative beings, and are very strategic hunters.
 They are integral to the delicate ecosystems that provide us with our homes, our food and our communities, and they protect the mountainous landscape that serves as home to many of our other Original Ancestors.
 Together in a circle of our sacred red cedar bark, these symbols collectively speak to the commitment of the ALIVE Society – to promote, enhance and foster the social, economic, and cultural well-being and health of Aboriginal peoples in Vancouver.
  Lou-ann Ika'wega Neel
 My Kwakwaka'wakw potlatch names are Ika'wega, Kiditl'logw, and Ga'astalaas, and I am from the Kwagiulth, Mamalilikulla, Ma'amtagila, 'Namgis and Kwickwasutaineuk people of the Kwakwaka'wakw Nation.  My grandmother was Ellen Ka'kasolas Neel (nee Newman), and she spent most of her life here in Vancouver, BC.  When I was invited to submit a logo for consideration by ALIVE, I was very honored, as my grandmother was a full time artist in Vancouver from the early 1940's until her passing in 1966.
 I am now a full time art-school student and practicing artist residing in Vancouver.  I work with artists and community organizations to promote creative, artistic, and cultural activities across the Lower Mainland, and am pleased to support the good work of ALIVE!